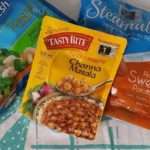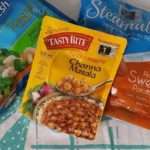 Recently, I had a taste of what it's like to be a vegan who doesn't cook.
For what seems like the past decade or so, I've been living with a kitchen remodel. Cooking while my kitchen was torn apart was not really a problem. I have an electric frying pan, an Instant Pot, and an Aroma Rice Cooker/Slow Cooker. I set them up in the dining room, creating a functional kitchen annex. But without running water (or a sink) plus some concurrent remodeling of the (very old) plumbing in the bathroom, clean-up was a challenge.
While I started out cheerfully cooking up black beans and quinoa in the Instant Pot and rice cooker, my cuisine quickly morphed into whatever could be made in the ... Read More >
Twenty or so years ago, when I first started working for PCRM, I was a brand new vegan—and very interested in what other vegans were eating. This was before Gardein, Daiya cheese, and Vegenaise eggless mayonnaise. It wasn't hard to be a vegan, but it wasn't as easy as it is now.
During lunch one day, when we were all comparing menus and cooking tips, one co-worker said that her dinner menus consisted of three rotated items: pasta with sauce from a jar; Progresso Lentil Soup, and veggie burgers. At that time, I was kind of surprised to meet a vegan who didn't cook. But I'm not surprised any more.
In fact, like many omnivores, a lot of vegans don't want to spend ... Read More >
I blog recipes only occasionally since there are so many great vegan cooks on the internet—and I'm merely a good-enough cook. But sometimes I stumble over a recipe that is so fantastic or I find myself pulling together such an exceptional menu that I feel compelled to share. And that's the case with last night's dinner. Here is the menu:
~Tempeh Marinated in Tequila
~Rice with Corn, Coconut Milk and Lime
~Spinach (fresh from the garden)
~Salad (even fresher from the garden)

I think this menu sounds a little fancy, and it would, in fact, be perfect for company. But believe me, it was super easy. Once you have the tempeh marinating and, if you cook the brown rice ahead of time, the ... Read More >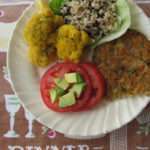 Okay, I'm no food photographer. But when I plated up this dinner last night, I was so impressed with myself that I had to take a quick photo. It's not just that this meal is fabulously healthy, delicious, and pretty. It's that it took me all of 10 minutes to pull it together.
Granted, the grains were leftovers. But if I hadn't had those, I would have substituted something quick-cooking, like quinoa, or maybe just a nice slice of toasted grainy bread.
I started with a veggie patty made by Don Lee Farms and sold at some Costco stores. It's not frozen but is fresh chopped veggies and grains, and it doesn't pretend to be meat. (I have nothing against veggie burgers that ... Read More >
Yesterday I listed some menu ideas that show how luscious and sophisticated vegan cuisine can be. But what if sophisticated isn't your culinary thing? Or what if you hate to cook?
Well, if you know how to boil water, steam vegetables, and wield a can opener, there is no end to the variety of vegan meals you can make.
Here are ten super quick meals. Most can be on the table in less than 20 minutes, and with a minimum of effort. Add some quickly steamed veggies or a salad to any of these.
Pasta topped with sauce from a jar and a sprinkle of grated soy parmesan.
Vegetarian baked beans served over couscous (the world's fastest-cooking grain!)
Butternut Squash Soup (look for ... Read More >
It's the season of birth and new beginnings in the northern part of the world. We're starting the time of year when daylight outlasts the night. March 20th is the first day of spring—and it's also Great American Meatout Day. What a great time to make a few changes and a fresh start.
Going vegetarian is about being kind to animals, responsible to the earth, and eating some of the best food in the world. But it's not just a good thing to do; it's fun, too! Do you think of meatless dishes as boring and limited? Look at some of the best-loved dishes from across the globe for ideas about how truly gourmet vegetarian eating can be. Here are just a few of ... Read More >
This may not taste exactly like the real thing, but that's okay. For those who really want to go green this St Patty's Day—for the earth and the animals—it's a fun alternative. It's easy to make, too. Serve it with Beer Bread. Here are both recipes:
Vegan Corned Beef
1 pound seitan (I use Westsoy Vegetarian Stir-fry Strips)
2 tsp pickling spice
2 tbsp brown sugar
1 tbsp salt
1 cup water
¼ cup canola oil
½ large onion, cut into chunks
1 garlic clove, smashed and chopped
1 tsp horseradish
1 tsp Dijon mustard
1 carrot, thickly sliced
½ head cabbage, cut into wedges
2 large potatoes cut into big chunks
In a large shallow pan with a lid, stir together the pickling spice, brown sugar, salt, and 1 cup water. Add the seitan, cover tightly ... Read More >