Jack just added some new information about the metal cadmium to the VeganHealth website.
His interest in the topic stemmed from a 2006 study from the Slovak Republic. The researchers found that vegans had higher levels of cadmium in their blood compared to both meat-eaters and lacto-ovo vegetarians. Levels were higher in those who had been vegetarian the longest and also in those who ate the most whole grains.
High levels of cadmium are possibly associated with risk for heart disease and very high levels can impact bone health and both liver and kidney function. Whether the higher levels of the Slovakian vegans is a problem is something we don't know. The researchers thought that the higher antioxidant content of vegan diets could counter the ... Read More >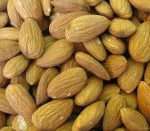 It's safe to say that we have more questions than answers about zinc in vegan diets. This mineral is found in a wide range of plant foods, and many studies show that vegans have intakes on a par with omnivores.
But other evidence suggests that vegans fall short. In addition, zinc absorption from plant foods can be low. In fact, the percent of zinc absorbed from different meals varies dramatically—from around 8 to 32 percent.
Because of the absorption issue, some experts suggest that vegetarians could need as much as 50 percent more zinc in their diet than omnivores.
There is no evidence that vegans suffer from overt zinc deficiency. But zinc is needed by the body for more than 50 different ... Read More >