Latest Article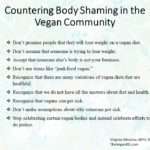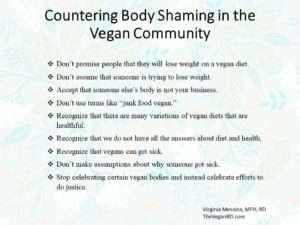 I had the pleasure of speaking on a panel with Andy Tabar of Compassion Company and JL Fields of JL Goes Vegan at Vegfest Colorado in late July. We spoke about body shaming and food shaming in the vegan community.
Although this is admittedly an unusual topic for a vegfest, it's an important one. Not just for those who are already active in vegan and animal activism, but also for newcomers who might wonder if there is a place for them in this community.
Andy posted a live recording of our presentations on his Bearded Vegans podcast, and you can view the slides from my presentation here. I looked at some of the potential consequences of over-hyping the health benefits of a vegan diet and at how some tactics used in animal advocacy contribute to body shaming. Andy and JL shared personal observations about body shaming and food shaming among vegans and explored ways in which our community can do better.
While some examples of body shaming are obvious, others are subtler. For example, suggesting that some particular type of ... Read More >
My Books