Even Vegans Die
A Practical Guide to Caregiving, Acceptance, and Protecting Your Legacy of Compassion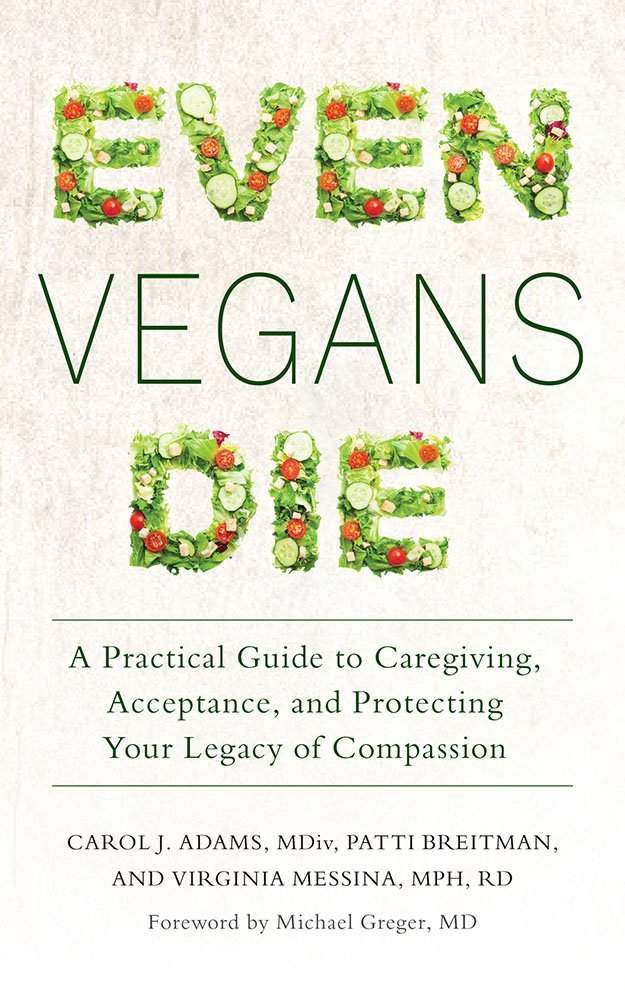 Even Vegans Die empowers vegans and their loved ones to make the best decisions regarding their own health, their advocacy for animals, and their legacy. By addressing issues of disease shaming and body shaming, the authors present a manifesto for building a more compassionate, diverse, and effective vegan community.
Even Vegans Die celebrates the benefits of a plant-based diet while acknowledging that even vegans can get sick. You will learn how to make the health care decisions that are right for you, how to ensure your efforts to help animals will not end after you die, and how to provide compassionate care for yourself and for others in the face of serious illness.
This book offers practical, thoughtful, and sensitive advice on creating a will, mourning, and caregiving. Without shying away from the reality of death, Even Vegans Die offers a message that remains uplifting and hopeful for all animal advocates, and all those who care about them.
---
"Even people who eat a healthy, plant-based diet, can get seriously ill. That's why this book is needed. Carol, Patti, and Ginny teach us to live wisely while we are still here, not only by eating well, but also by caring for ourselves and each other. I want to live well and, if necessary, I want to die well, too. If you do also, then start reading."—From the foreword by Michael Greger, MD
"I really didn't think that a book about the mortality of vegans would be so beautiful and empowering, but it is. It's full of sound advice, wisdom, and resources that give you clarity and courage in spite of a culture that prefers to avoid the truth of mortality. It reminded me that it isn't until we accept our own inevitable death that we can fully live and love ourselves and others as the interdependent, imperfectly perfect animals that we are. This is the most important book I've read in a long time, and it will add so much to the vegan cause, community, and canon.—Marisa Miller Wolfson, Writer/Director, Vegucated
"Even Vegans Die knocked my socks off with its integrity. I was thrilled to read a book by three powerful women telling it like it is! It is so refreshing and easy to read. It is filled with sobering truth and firm, kindhearted advice reminding us that even our fellow vegans deserve compassion."—Lauren Ornelas, Founder/Executive Director, Food Empowerment Project
"Overflowing with compassion and practical wisdom, this book tackles sobering issues of illness, caregiving, death, mourning, and isolation that all people, vegan and not yet vegan, will inevitably confront. Everyone should read this book and reflect on Carol, Patti, and Ginny's caring advice for living, and eventually dying, well."—Lori Gruen, author, Entangled Empathy
"A real-life guide to, well: real life, which includes death—despite one's diet, attitude, or how many times one hears, 'You don't look your age.' Addressing a real problem in the vegan world—that being sick or, heaven forbid, shuffling off this mortal coil somehow makes us 'bad vegans'—this thoughtful and knowledgeable trio of writers help us in their honest and forthright book to deal wisely with the fact that our days are numbered, and to live with vibrancy and purpose every day we've got."—Victoria Moran, author, Main Street Vegan and The Love-Powered Diet
"Brilliant and inspiring! Carol, Patti, and Ginny have filled a gap in vegan literature with a guide that is as practical as it is powerful. Even Vegans Die helps us navigate many of the challenges we and our loved ones confront as we age. I learned so much from this wise, wonderful, and immensely important book."—Mark Hawthorne, author, A Vegan Ethic: Embracing A Life Of Compassion Toward All
"Even Vegans Die is a must-read for vegans—an essential and honest reflection on topics that most of us choose to ignore. This book tells us why it is so important for the vegan community to face and embrace these issues."—Anya Todd, MS, RD, vegan dietitian and animal rescuer
"At sanctuaries, we know better than anybody that everybody dies. We also know that people are most likely to hurt themselves or others when they mistake themselves for superheroes. Even Vegans Die offers a refreshing and essential antidote to all-too-human delusions of invincibility, while also arguing (accurately) that the vegan and animal advocacy movements will become more effective by embracing diversity, including diversity of body size and health experience. As a bonus, the book offers practical advice alongside astute analyses."—Pattrice Jones, author and co-founder of VINE Sanctuary
"As a chubby, vegan culinary instructor and cookbook author, I'm hyper aware of the fact that I don't fit the bill for selling veganism ('But you're not skinny'). And I cringe when some of my culinary students misunderstand that a vegan cooking class is different from a weight-loss cooking class. In an attempt to make veganism sexy, there's a pervasive message that vegans are skinny, disease-proof and should look 30 when they're 70. That's not fair to the incredibly diverse vegans I know—of all sizes, shapes, races, ages, gender identifies, and religions—and it sure doesn't help the animals. This book is important and it's done just right. It's a tool for vegan activists to speak pragmatically about the health benefits (and myths) of a plant-based diet. It's a guide for dealing with the realty of health, illness and, ultimately, death: death of the people we love, as well as our own. And it's a call for rational compassion. Hats off to the dynamic trio of authors who tackle this difficult topic with kindness, truth, and hope.—JL Fields, author The Vegan Air Fryer and Vegan Pressure Cooking
"The benefits of a plant-based diet and a healthy lifestyle are underutilized and underappreciated, yet concurrently to some they represent a moral high ground as an impenetrable shield defying risk, chance, and even death. To be sick or overweight or in anyway unrepresentative of an ideal body is deemed unclean and immoral and the fault always lies on the individual. But the research that outlines the benefits of a vegan diet also shows us that disease and death are a part of our lives beyond diet and lifestyle. A range of body types has always existed and will continue to exist and to expect otherwise is detrimental to our collective health. Even Vegans Die is here to remind us that snake oil is not vegan and in order to do the most good we have to accept this reality and act accordingly."—Matt Ruscigno, MPH, RD, co-author, No Meat Athlete and Appetite for Reduction
"Why is a title as obviously true as Even Vegans Die so provocative? This much-needed book from some of the vegan movement's most compelling thinkers not only provides insights into this question, it also offers a wide range of practical advice on how to better care for ourselves and our community—and why it's critically important to do so. Eschewing perfectionism, denial, and blame, the authors present a care-centered lifestyle and model of effective activism based on discerning realism and profound inclusivity. The result is an empowering set of theories and recommendations that embolden people of conscience to create more deliberate lives and more enduring legacies."—Dawn Moncrief, Founding Director, A Well-Fed World
"Even Vegans Die tackles hard questions related to illness, death, mourning, and caretaking, especially as they impact those who care about animals. The result is a book that brings a new dimension to these issues, exploring them in ways that help us become better advocates for animals, for our fellow vegans, and for our own legacy."—Marc Bekoff, author, The Animals' Agenda: Freedom, Compassion, and Coexistence in the Age of Humans