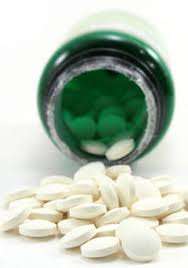 Vegans are sometimes tempted to deny the need for supplements. The fear is that any suggestion that our diet could fall short of providing adequate nutrition makes it appear "unnatural" or inferior. But the concept of naturalness is meaningless when it comes to dietary choices. Even if we wanted to, we couldn't approximate the diet (or more likely, diets) that our prehistoric ancestors ate. And let's face it, there is nothing the least bit natural about raising animals on factory farms.
A vegan diet requires supplementary vitamin B12 at the very least. And depending on calorie intake and food choices, some vegans may fall short of meeting needs for other nutrients.
It's worth paying attention to this. We promote a way of eating that is well outside the mainstream and, therefore, we're challenged to prove its safety every step of the way. The things at stake are the health of the people to whom we promote this diet and the lives of the billions of animals who depend on us to make veganism a realistic and safe choice for everyone. So we'd be wise to err on the side of caution in making recommendations about how to eat.
Here are the supplements (which can be obtained through either pills or fortified foods) that vegans need:
All Vegans
Vitamin B12
You cannot get enough vitamin B12 by eating unwashed organic produce or mushrooms grown in B12-rich soil. The evidence does not support the idea that you can get it from sea vegetables or fermented foods.
The recommended dose of B12 is 25 to 100 micrograms per day or 1,000 micrograms 2-3 times per week of cyanocobalamin (not methylcobalamin). You can also meet needs by consuming two servings per day of fortified foods providing at least 2 micrograms of B12 per serving – but those servings should be consumed several hours apart.
The recommendations for amounts of vitamin B12 to consume look a little odd, but they make sense based on what we know about B12 absorption. You'll find more information on vitamin B12 here.
Many Vegans
Vitamin D
Both vegans and non-vegans get vitamin D the same way – through sun exposure, supplements or fortified foods. If you live where it's sunny and warm all year and you spend time outdoors without sunscreen, you might be able to make enough vitamin D. Keep in mind that the darker your skin is, the more sun exposure you need. Also, it can become very difficult to make enough vitamin D as you get older. A supplement providing 600 IUs per day is good insurance for everyone, and some people may need more than this to maintain or restore optimal blood levels of vitamin D.
Iodine
Non-vegans get much of their iodine from iodized salt and dairy products. Dairy contains iodine in part because it's in the solutions used to clean cows and equipment on dairy farms. Vegans who regularly eat sea vegetables may get enough, but the content of these foods varies a lot as it does for sea salt and other "natural" salts. Miso, which some vegans prefer to use in place of salt is not usually a good source of iodine. The only reliable sources are iodized salt (use about ¼ teaspoon per day) or a supplement providing around 90 micrograms per day.
Some Vegans
Calcium
Our ancestors didn't drink milk and got all the calcium they needed from wild greens. And even though modern cultivated greens have less, we could get enough calcium from a combination of cruciferous greens plus other foods (like beans and nuts) that provide smaller amounts of calcium. But without fortified foods like plant milks, many vegans fall short on calcium. (So do many omnivores; the food industry doesn't fortify orange juice or instant oatmeal with calcium as a favor to vegans. Those foods are marketed to omnivore women.) More information on calcium can be found here.
Iron
Young women with heavy periods may have a tough time keeping up with iron needs, and again, this is not a problem that is specific to vegans. Rates of iron deficiency anemia are actually very high among pre-menopausal omnivore women. It can help to take a low dose supplement (high doses can be hard on the stomach) or to include some fortified foods in the diet. Don't take iron supplements without getting a blood test first, though, to make sure you absolutely need them. You'll find more information on iron here.
Possible Supplement Requirements
DHA and EPA
These are the long chain omega-3 fats that are found in the flesh of certain fatty fish. While we can synthesize them from the omega-3s in walnuts and flaxseed, the process is not especially efficient. Some vegans choose to take a supplement providing 200 to 300 mg of DHA plus EPA several times a week. It may be a good idea, but we don't know for sure.
Perspective on Supplements for Vegans
Sound like a lot of supplements? Well, here is some perspective: Omnivores also get their dietary vitamin D from fortified foods (cow's milk is not a natural source of this nutrient).  They get their iodine, at least in part, from accidental contamination of dairy foods. Many omnivores—women especially—depend on supplements to meet calcium and iron needs. And the Institute of Medicine recommends that everyone over the age of 50 should add vitamin B12 supplements or B12-fortified foods to their diet. This is because it becomes increasingly difficult to digest and absorb the vitamin B12 in animal foods with aging.
So, in fact, the need for supplements is not all that different for vegans and omnivores. It's true that a vegan diet is unique in that it doesn't provide vitamin B12. But compensating for that is an incredibly easy fix. And it's a minor issue when it allows you to choose an eating pattern that supports a more just and compassionate world.