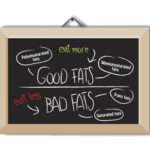 Quite a few people have asked me to comment on the blog Authority Nutrition. It's written by Kris Gunnars, a medical student at the University of Iceland.
First, despite the bold title of his blog, Gunnars is no authority on nutrition. His background is the usual one of the self-proclaimed expert: "I got interested in my own health and started reading books and studies on nutrition."
The result is that his blog is an interesting mix. There is some good advice and thoughtful observation, but also many overstatements of the evidence as well as some overt misinformation.
But he is certainly popular and it's not hard to see why. He writes ... Read More >