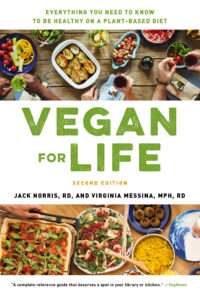 I'm excited to announce that a completely updated and expanded edition of Vegan for Life is headed into the world. Its pub date is May 12, 2020 and it's available for pre-order now.
My co-author Jack Norris and I have added lots of new material to the book – a brand new and much simplified food guide, a chapter on eating to manage intestinal issues, and a compassionate guide to addressing body size issues within a vegan ethic. All the nutrition information is updated as are the guidelines for eating to reduce risk for chronic disease. We've added lots of information to help people go vegan and stay vegan.
Our goals for this book are the same as they were when we wrote the first edition nearly ten years ago. We wanted to create something that was both definitive and accessible. We wanted the information to be science-based, encouraging, and practical. We wanted readers to have the tools and knowledge they need to make a vegan diet work for them for the long term. (That means knowing how to make healthful food choices, and also knowing that you can have a cookie when you feel like it.)
It's not the best time in the world to be launching a new book as you might imagine. On the other hand, aspects of this pandemic have made more people realize that a diet based on animal foods is not a sustainable or responsible choice. My hope is that the new Vegan for Life will be helpful not just to current vegans, but also to those who are exploring new options and taking steps away from animal foods. Our chapter on how to make the transition at a comfortable pace should be useful to people no matter what type of diet they are eating right now.
You can read more about the book and see the table of contents here and view the options for purchasing here. Please also consider asking your local library to carry the ebook so that it's available to those who may not have the funds for a new book right now.
I look forward to hearing what you think about the new Vegan for Life!