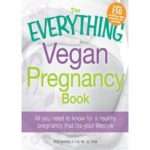 If you aren't a regular reader of my examiner column, you may have missed my review of a new book for pregnant vegans. The Everything Vegan Pregnancy Book is written by my friend and colleague Reed Mangels, PhD, RD.
Reed is an instructor at the University of Massachusetts, co-author of the ADA's most recent position paper on vegetarianism, editor of the newsletter for the ADA's vegetarian group, and also the nutrition expert at the Vegetarian Resource Group. I've worked with her over the years on many projects including papers on vegan diets for children, a textbook on vegetarianism for dietitians, and the ADA's position paper. She is among my handful of go-to experts regarding vegan nutrition, and is widely regarded among vegan dietitians as one of the world's leading experts in this field. And she is probably THE world's expert on vegan nutrition in pregnancy and for children.
That's why this book is such an important new resource for vegans. It's a comprehensive, but reader-friendly guide that covers all aspects of pregnancy and delivery, not just the ones that pertain to diet. Issues addressed in this book include meeting nutrient needs, choosing supplements, eating safely while camping, dealing with skeptical family members, writing up a birth plan, being vegan in the hospital, and feeding a newborn.
Pregnant women are likely to encounter health professionals who don't understand vegan diets and have concerns about them. I think this book will reassure women, their families, and their health care providers that a vegan diet is a safe and healthy choice for pregnant women. If you know anyone who needs it, please point them toward The Everything Vegan Pregnancy Book.