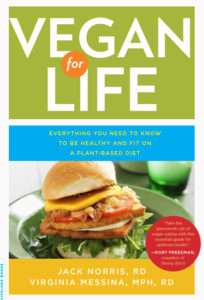 Vegan for Life: Everything You Need to Know to be Healthy and Fit on a Plant-based Diet!
by Jack Norris, RD and Virginia Messina, MPH, RD.
Da Capo Press, 2011
In this comprehensive guide to plant-based nutrition, registered dietitians and long-time vegans Jack Norris and Virginia Messina answer all the key questions and debunk some of the most persistent myths about going vegan. It's the definitive guide for aspiring and veteran vegans alike—or for those who are just thinking about taking a few steps toward more plant-based diets.
Here is what people are saying about Vegan for Life.
Publishers Weekly: "Armed with this compendium and a vegan cookbook, novices will make an easy, healthy transition to meat, egg and dairy-free meals, while practicing vegans can use it as a guide to the best food choices."
Reno-Gazette: " I can't rave enough about Jack Norris and Virginia Messina's new book "Vegan for Life." …I've found myself reading this late into the night like a page-turning mystery. That's, in part, because it dispels many of the things I've believed about vegan nutrition.
Peter Singer, PhD, author of Animal Liberation and Professor of Bioethics, Princeton University: "Here is the book I have been waiting for! Now when people ask me all those questions about how you can be healthy without eating animal products, I can tell them that they will find the answers in Vegan for Life."
Michael Greger, M.D., Director, Public Health and Animal Agriculture, HSUS: "A no-nonsense guide to explode the myths, avoid the pitfalls, and maximize health on a plant-based diet. Required reading for every vegan, old or new."
Healthy Voyager (blog): "Norris and Messina answer 'everything you want to know about going vegan' without a lot of scientific jargon or hit-you-over-the-head-messaging so that your learning curve or refresher is a positive one that is also simple to follow."