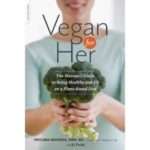 I'm counting the days with lots of excitement (and sometimes a little apprehension) to June 18, 2013—the release date for my new book Vegan for Her. I've been working on it for more than a year with my friend and co-author JL Fields, and it's hard to believe that in a few short months, this labor of love will be a real live book!
Right now, JL and I are in the process of creating a community around the ideas and concepts that we talk about in our book. We'll be launching veganforher.com at the end of May, a site dedicated to sharing information and encouraging dialog among vegan and vegan-curious women. We're going to talk about everything under the sun—food, nutrition, clothes, body image issues, animals, and all the challenges and joys of being vegan—whether you are already vegan or just kind of thinking about it.
You can sign up for our email list right now so that you'll receive the very first post when we launch the site in May. Please also follow Vegan for Her on twitter, facebook, and pinterest.
And a note to my male readers: please don't go away! This blog is still for everyone. And—just a little teaser for now—I'm working on a book for next year that will be of interest to at least some of you.