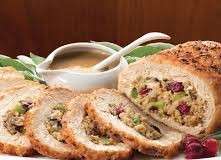 [updated 11/26/19]
Finding recipes for a fabulous vegan Thanksgiving feast is not exactly a challenge. My own Vegan Thanksgiving board on pinterest is quickly filling up with all kinds of delectable dishes that I will probably never make. The reason I won't make them is that I tend to be traditional regarding Thanksgiving dinner. I want it to be pretty much the way it was when I was growing up, but with a compassionate makeover.
I might be tempted to make one or two new things some years, but mostly it's all about the stuffing and the mashed potatoes and gravy for me. And I don't think I'm alone in this regard. Many people who are reluctant to give up the turkey at their Thanksgiving feast may be more attached to their traditions than anything else. If you're making Thanksgiving dinner for non-vegans, it's important to view it as outreach by making the dinner festive and delicious. 
I'm always amazed at how easy it is to pull together a good vegan Thanksgiving meal.  And at how few tweaks it takes to turn the dishes of my childhood into the compassionate cuisine that fits my life now. You really don't need to know anything special about vegan cooking to veganize Thanksgiving.
So here is what is on the menu for this year with my vegan modifications.
For the main course: So far, I've liked all of the vegan holiday roasts I've tried, but the Gardein Holiday Roast is my favorite. I also like the Field Roast Hazelnut Cranberry Roast en Croute (it has a little bit of that wow factor for me since I'm easily impressed by anything wrapped in a flaky crust). I've served a Tofurky Holiday Roast at many Thanksgiving dinners, too, and it's always been well-received.
Mashed potatoes. I make them in the crockpot with soymilk and vegan margarine.
Stuffing. I use a commercial mix, substituting olive oil and veggie broth for the butter and chicken broth, and adding chopped onions, celery, apples and walnuts
Gravy. Mine is a mushroom gravy and I don't use a recipe. Just saute mushrooms in oil, stir in flour and vegetable broth and add some herbs. But there are plenty of recipes on the internet for mushroom gravy if you need a little more guidance than this. (Also, the vegan holiday roasts come with their own gravy; I find that I always need extra, though.)
Roasted fall veggies: Brussels sprouts, golden beets, turnips, parsnips, sweet potatoes, carrots, and onions tossed with olive oil and herbes de Provence and then roasted at 400 degrees for about 45 minutes.
Coleslaw made with Vegenaise.
Cranberries (the directions on the Ocean Spray package are vegan—I use organic sugar—but there are also all kinds of nice vegan recipes with added fruits and brandy.
Green bean casserole. I'm on the fence about this one since it is not a traditional Thanksgiving dish for me. But my husband loves it and it's so much fun to veganize this (just replace the mushroom soup with sauteed mushrooms and a sauce of soymilk and olive oil thickened with flour). So, if I have time, I'll whip this up, too.
Pumpkin Pie. If I have a crowd for Thanksgiving dinner, I usually rely on guests to bring desserts since baking is not my favorite task. But I will always make a pumpkin pie (with a store-bought crust, I'm sorry to say). I like the recipes that use blended silken tofu, but may try this one from Isa this year.
To drink: red wine, white wine, sparkling cider, coffee with non-dairy creamer.
That's it! Relatively easy, vegan and remarkably traditional — those are the things that make this the perfect Thanksgiving dinner for me.