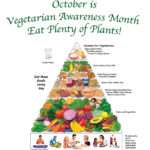 In celebration of Vegetarian Awareness Month, the non-profit group Oldways interviewed me and my colleague Mark Rifkin, MS, RD, LDN to get some historical and practical perspective on vegetarian diets. Oldways, while not a vegan or vegetarian organization, promotes traditional plant-based food patterns for health.
I was especially happy to be teamed up with Mark for this interview. He and I bring some different perspectives to our work, but we agree on most of the important issues—in particular that nutrition guidance has to be based on current research, not personal belief and wishful thinking. (My favorite quote from the interview is Mark's answer to the question about how we should respond to those who have questions about roles of fats, oils, and carbs in the diet. "I respond by suggesting that others review the evidence with a critical eye, not just an adoring, worshipful eye.")
Thank you to Georgia Orcutt, Oldway's Program Manager, for including me in the interview and for her thoughtful questions. You can read the interview with Mark and me here.