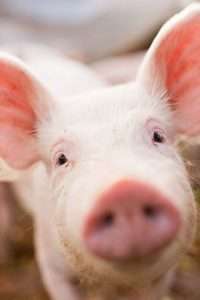 [Edited and updated 1/1/20]
It's New Year's resolution time and maybe you or someone you know is resolving to adopt a vegan diet. But how do you do it so that the change will stick? It's a big deal, after all, that encompasses a whole bunch of new habits.
Taking it one step at a time with a gradual transition to veganism is one way to ensure long-term success. For some people at least, it can be easier to maintain and build on small-step changes than to dive into a complete overhaul of your diet.
The concern about a more gradual approach is that people will make a few changes and then poop out. I'm sure that happens sometimes. But when you see how doable these changes are, it becomes easier to keep exploring, learning, and moving forward. The important thing is to keep seeking ways to make more vegan choices, rather than to get hung up on missteps.
So where to start? I suggest that people begin with these two changes. One is easy, the other hugely impactful.
Remove cow's milk from your diet. This is the easy one. There are so many alternatives and they all provide abundant calcium and can be used in place of cow's milk in any recipe. With so many choices, it's likely that most people will find something that they like.
Stop eating meat from chickens. This is a simple concrete change that has a major impact. The lives and deaths of chickens are brutal, especially since there are no laws governing their slaughter (they are exempt from the Humane Slaughter Act.) And they are small animals so that you only need to skip a few meals of chicken meat to save the life of one animal. It's the kind of change that can really help new vegans feel that they are making a difference.
From this point, there are any number of steps that new vegans can experiment with. Here are a few simple ideas. Each one brings you a little closer to a vegan diet.
Make small, easy substitutions:

Just Mayo or Vegenaise in place of egg-based mayonnaise
Olive oil and vinegar on salads instead of creamy dressings
Vegetable broth in place of chicken broth
Low sodium Worcestershire sauce in place of the regular type (the low sodium kind is usually free of anchovies but you should check the label to be sure).
Vegan ice cream instead of ice cream from cow's milk.
Experiment with veggie meats. They just keep getting better and better. I'm a fan of the ones made by Impossible Foods, Beyond Meat, Gardein, Tofurky and Field Roast but there are many others to try. Chopped into soups and stews and sauces, they can be especially helpful for those who are craving the flavor, fat and texture of meat.
Experiment with egg-free baking. Chances are you already have a great egg substitute in your kitchen. The liquid from a can of chickpeas, called aquafaba, makes an effective egg substitute.
Learn to live without cheese. It's a sticking point for a lot of people who want to go vegan—how can they ever give up cheese? One option is to simply omit it and replace it with other umami-rich ingredients. Or try one of the spectacular vegan cheeses made by Kite Hill, Miyoko's, Daiya or Tree Line. If you have the time, you can also make your own.
Some changes are easier than others and some take a bit of experimenting. It can help to remind yourself that every time you choose a plant food over meat, dairy or eggs, it makes a difference for animals. When you look at each change that way, it becomes a little easier to move forward with compassionate choices.