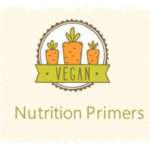 Many of the questions that come to me via email, this blog and through social media are ones that I've answered somewhere at one time or another—in my books, in blog posts or in other articles online.
Sometimes the information that people need is spread out across several resources, though, and I thought it might be helpful to consolidate it all into one place with a series of nutrition primers. My goal is to share information in response to the most frequent questions I receive, and to do so as concisely as possible, while still covering everything you need to know. So, it's less information that you'll find in my books, but more than what you might find in blog posts.
The first one is on vitamin B12 and it addresses, among other things, the reasons for recommending cyanocobalamin.
My plans for future primers (hopefully in the next few months) include:
Calcium
Omega-3 Fats
Iron and Zinc
Protein
Supplements for vegans
If there are others you would like to see, let me know in the comments below.
And please take a look at Vitamin B12: A Primer for Vegans