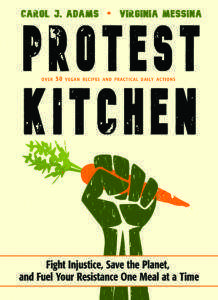 In our new book, Protest Kitchen: Fight Injustice, Save the Planet, and Fuel Your Resistance One Meal at a Time, Carol J. Adams and I suggest that your food choices offer a way to challenge the rise of repressive and regressive values. That is, a vegan diet offers opportunities not just to confront factory farms and environmental destruction, but also to impact misogyny, racism, and injustice.
Our book is headed to the printer this week and is due to arrive in bookstores in the fall, but it's available for preorder on Amazon and Barnes and Noble now. (It will be available as an audio book in addition to print and e-reader formats.)
Carol and I started talking about this book shortly after the presidential election, when it occurred to us that there are numerous ways that a vegan diet can inform and strengthen our own resistance efforts. For one thing, at its core, veganism honors compassion and it models values of kindness and decency, values that are under assault by the current administration. Vegan food choices celebrate diversity, challenge the patriarchy and encourage a culture of acceptance and integrity. We look at the ways in which veganism aligns with all aspects of food justice.
In short, we look at veganism as both an act of resistance and a resource for hope and healing. It's a way to feel empowered at a time when it's all too easy to feel disempowered. Not only do vegan choices enact your values, protect the environment and potentially enhance your health, they also become a daily reminder that change is possible. (Vegans know that no matter what else is happening in our lives, every meal is an opportunity to have an impact.)
We wanted this to be a practical guide that will help non-vegans take steps toward a more plant-based diet, and hopefully explore some of the other aspects of veganism, too. To that end, the book includes 30 Daily Actions, some of which incorporate recipes. It also has a short chapter on how to eat healthfully as a vegan and we explore the ways in which choosing a vegan diet can counter feelings of stress and depression. To end on a light note, Protest Kitchen includes a "Resistance Feast." Put together with the help of vegan cookbook author Bryanna Clark Grogan, it features recipes like Stop the Wall Taco Salad, Trumped Up Vegan Cutlets a L'Orange, and ImPeach Crumble.
You can see the table of contents and read some excerpts from Protest Kitchen via this free e-book sampler that our publisher created. You can also read more about it in this blog post on Carol's website. I hope you'll read Protest Kitchen and will let me know what you think!