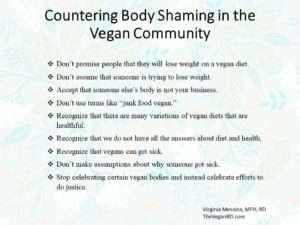 I had the pleasure of speaking on a panel with Andy Tabar of Compassion Company and JL Fields of JL Goes Vegan at Vegfest Colorado in late July. We spoke about body shaming and food shaming in the vegan community.
Although this is admittedly an unusual topic for a vegfest, it's an important one. Not just for those who are already active in vegan and animal activism, but also for newcomers who might wonder if there is a place for them in this community.
Andy posted a live recording of our presentations on his Bearded Vegans podcast, and you can view the slides from my presentation here. I looked at some of the potential consequences of over-hyping the health benefits of a vegan diet and at how some tactics used in animal advocacy contribute to body shaming. Andy and JL shared personal observations about body shaming and food shaming among vegans and explored ways in which our community can do better.
While some examples of body shaming are obvious, others are subtler. For example, suggesting that some particular type of vegan diet is the "secret" to permanent weight loss is not only simplistic, it also shames vegans who don't lose weight. It suggests that they just "aren't doing veganism right." Memes and cartoons that make fun of the bodies of non-vegans are body shaming that masquerades as humor or animal advocacy. Suggesting that a vegan diet will make people more "attractive" or "youthful-looking" is body shaming (and it's also ageist.)
Shaming others, vegan or not, belies the compassion that is at the core of a vegan ethic. It moves the focus onto our bodies and away from animals. And it makes assumptions about who should be allowed to speak for animals. Andy, JL and I all noted that we hear far too often from people who are reluctant to admit that they are vegan because of their health or how their bodies look. Or they feel reluctant to participate in animal advocacy. But as Andy noted, "The animals are in a state of emergency. They need every single body working for them regardless of how they look."
This is what we can do (and not do) to counter body (and food) shaming:
Don't promise people that they will lose weight on a vegan diet.
Don't assume that everyone is trying to lose weight.
Accept that someone else's body is not your business.
Don't use terms like "junk food vegan."
Resist the temptation to comment on someone else's food post about how you "would never eat that."
Recognize that there are many variations of vegan diets that are healthful.
Recognize that we do not have all the answers about diet and health.
Recognize that vegans can get sick.
Don't make assumptions about why someone got sick.
Instead of celebrating certain vegan bodies, celebrate all vegan efforts to do justice.
I hope you'll have a chance to listen to the body shaming panel.  And if you're in the North Carolina area, please consider attending the Triangle Vegfest where you can hear JL and Andy speak on this topic later this month.