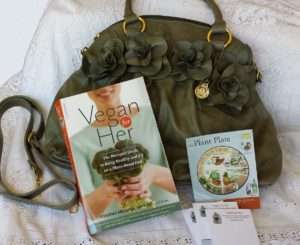 JL and I are celebrating the first anniversary of the release of Vegan for Her with a pretty amazing giveaway.
First prize is a brand new Big Buddha "Arlene" rosette satchel, a signed copy of Vegan for Her, a Plant Plate refrigerator magnet and 3 notepads.
Two second place winners will receive a signed book, the magnet and three notepads.
Head over to the Vegan For Her website to enter. And yes, the contest is open to guys, too! All of these items make great gifts.