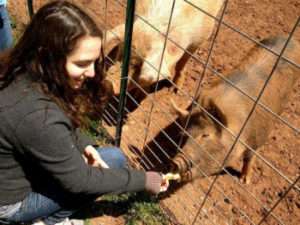 When I was collecting stories for Never Too Late to Go Vegan about how and why over-50 vegans transitioned to a plant-based diet, a response I heard many times was this: I wish I had gone vegan a long time ago. I get that. I was well into adulthood before I stopped eating meat, and then it was still some years before I went vegan.
I have had a heart for animals for as long as I can remember. I was always "rescuing" baby birds. (Those poor birds!) And feeding homeless cats. And crying over Wilbur's potential fate.  And yet, I ate meat
Granted, it was a different time in the world. I did not know one person who was a vegetarian when I was growing up. But, that's no excuse, since plenty of others were able to make the connection early in life between the animals they loved and the food on their plate.
I'm currently working with a group of those people—teens who "get it," and who are changing the world for animals. Early this year I signed on to the advisory board of Vegetarian and Vegan Youth, an organization that aims to support young people who are vegetarian or vegan, and to empower them to be activists for animals. The organization was founded by Chloe, a 16-year-old who launched VegYouth in August 2013 with a $1,000 grant from the Pollination Project. In just a year the organization has become an international network of more than 50 student clubs. And it continues to grow.
In addition to helping vegan and vegetarian teens connect and find support and become powerful advocates for animals, Vegetarian and Vegan Youth provides information about how to live as a vegan or vegetarian. There is a great need for this kind of info. Young people can face some particular challenges in going vegan or vegetarian. They might be on their own for meals if their family isn't supportive. And even if their family is supportive, how many parents know how to plan vegan meals for teens?
And good nutrition is so important at this time of life. Growth is fastest during certain times of the teen years than at any other time in life except for infancy. There are dramatic increases in needs for certain nutrients like protein, calcium and (for girls) iron.
The real challenge lies in the fact that teens often have a lot of control over their own food choices, and nutrition isn't often a huge priority for them. We can hope that vegan teens have a little bit more of an interest in eating well since they know the importance of proving the safety of a vegan diet—to their parents, their peers and the people they want to reach with a vegan message. The VegYouth website certainly promotes the importance of a healthy diet and includes my Plant Plate among other resources.
The Plant Plate can serve as a good starting point for teens, although they will need more servings from some of the food groups. In particular, teens need lots of legumes—at least 5 servings per day.  So they should load up on beans, tofu, tempeh, soymilk, peanuts and peanut butter. Veggie meats can help, too.
Vegans typically have iron-rich diets but it's especially important during these years to emphasize vitamin C-rich foods at as many meals as possible to improve iron intake. Great meal ideas that pair vitamin C-rich foods with iron-rich foods include pasta with tomato sauce, bean soup with tomatoes and bell peppers, oatmeal with strawberries, tofu stir-fried with cabbage, broccoli topped with peanut sauce.
Because nearly half of the skeleton is formed during the teen years, calcium is ultra-important. Teens should aim for 5 generous servings of calcium-rich foods per day: 1 cup of tofu, tempeh, soybeans or fortified plant milk; ½ cup of soynuts or almonds; 1 cup cooked bok choy, collards, Chinese cabbage, kale; or ½ cup dried figs.
And, as for all vegans, supplements of vitamin B12 (25 to 100 micrograms per day of cyanocobalamin) and vitamin D (600 IUs per day) are important.
Convenience foods are probably going to play a role in the diets of many vegan teenagers. Teens eat a lot of meals as snacks or on-the-go. Some good items to keep on hand include trail mix, hummus, whole grain breads, fortified juices and plant milks in individual aseptic containers, almond and peanut butter, protein bars, frozen vegan burritos, veggie burgers, instant soup cups, frozen vegetables, frozen cooked grains (Trader Joe's sells some that can be popped right into the microwave.)
Vegan and vegetarian teens need and deserve a lot of support. Hopefully, most will find that support within their families. But the rest of the animal rights community can help by always sharing good evidence-based information on plant-based nutrition. And by supporting groups like VegYouth that empower young people to become an active part of our efforts on behalf of animals. They are the future of animal rights. Consider a donation in honor of their first birthday.